What a week! Hundreds of companies, machines, tens of kilometers walking through halls 11 and 12 and fantastic conversations all around. The last months we worked very hard to present an up-to-date overview of the latest developments in our company. In this article we present a recap of what was shown at the fair.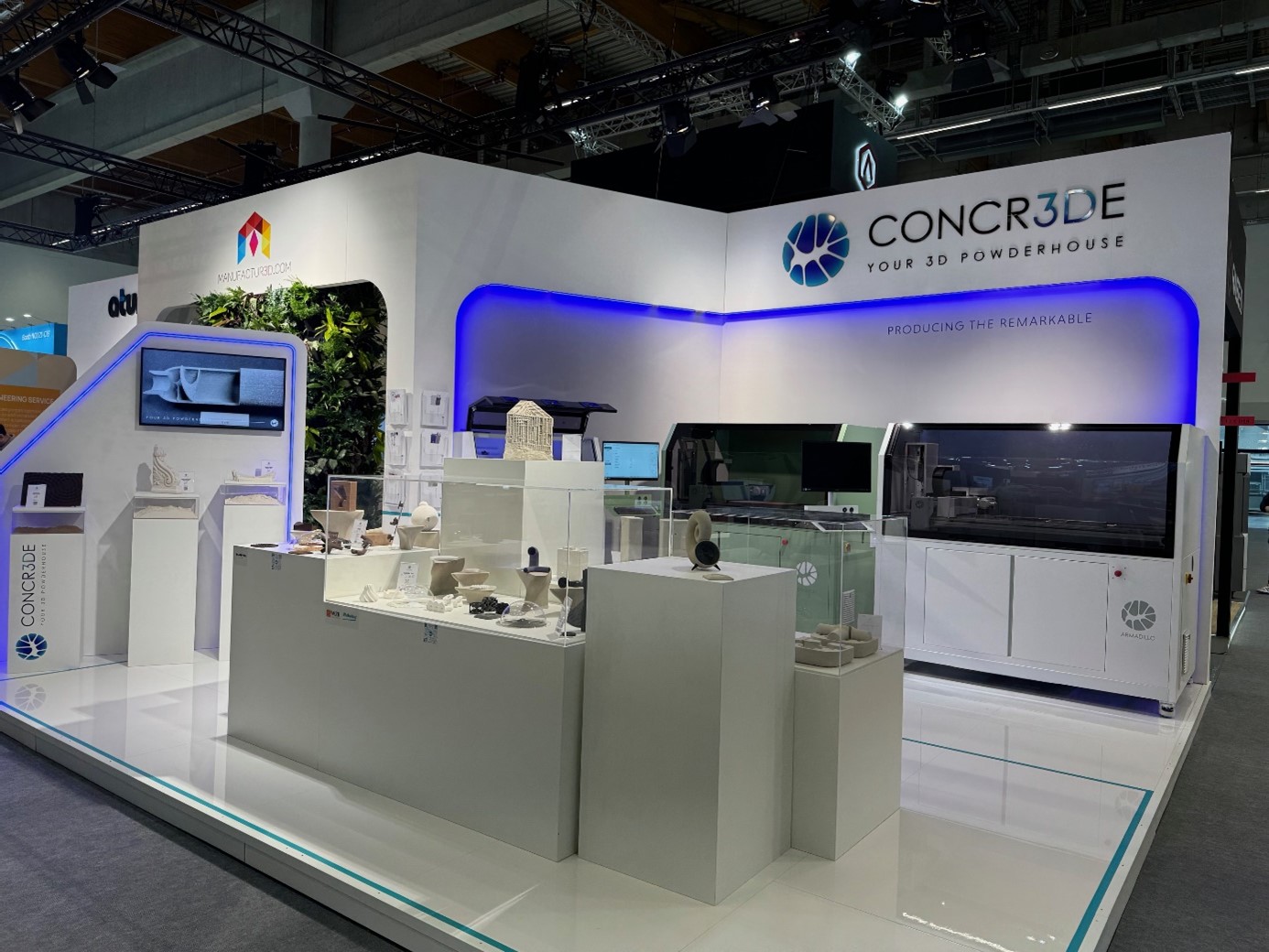 3D wood printing using Armadillo Green & Bio Binder
At CONCR3DE we care about making manufacturing sustainable and using as little as possible of scarce virgin materials. An example that we showed at the fair is our collaboration with Marvel Labs. We launched our newest edition of the Armadillo 3D printer: the Armadillo Green. It is a 3D wood printer, a mini factory for everywhere where sawdust is a waste stream. The user can sieve sawdust to the right fraction, directly put it in the printer and then print a biodegradable binder on the sawdust, after which it is processed with a bio-based resin finish. This process gives a highly stable wood based product that can be used for product design, packaging, furniture making, fashion or any other application where complex shapes in wood are seen.
At Formnext, we showed samples made with American walnut, a common species in the US. But, the process works with all kinds of wood: already tested species are pine, oak and many more.
The Armadillo Green is readily available in two sizes, featuring a 37 x 26 x 25 centimeter print box or a 44 x 44 x 25 centimeter print box. Interested in printing your waste stream on the Armadillo Green? Contact us here and we'll get in touch!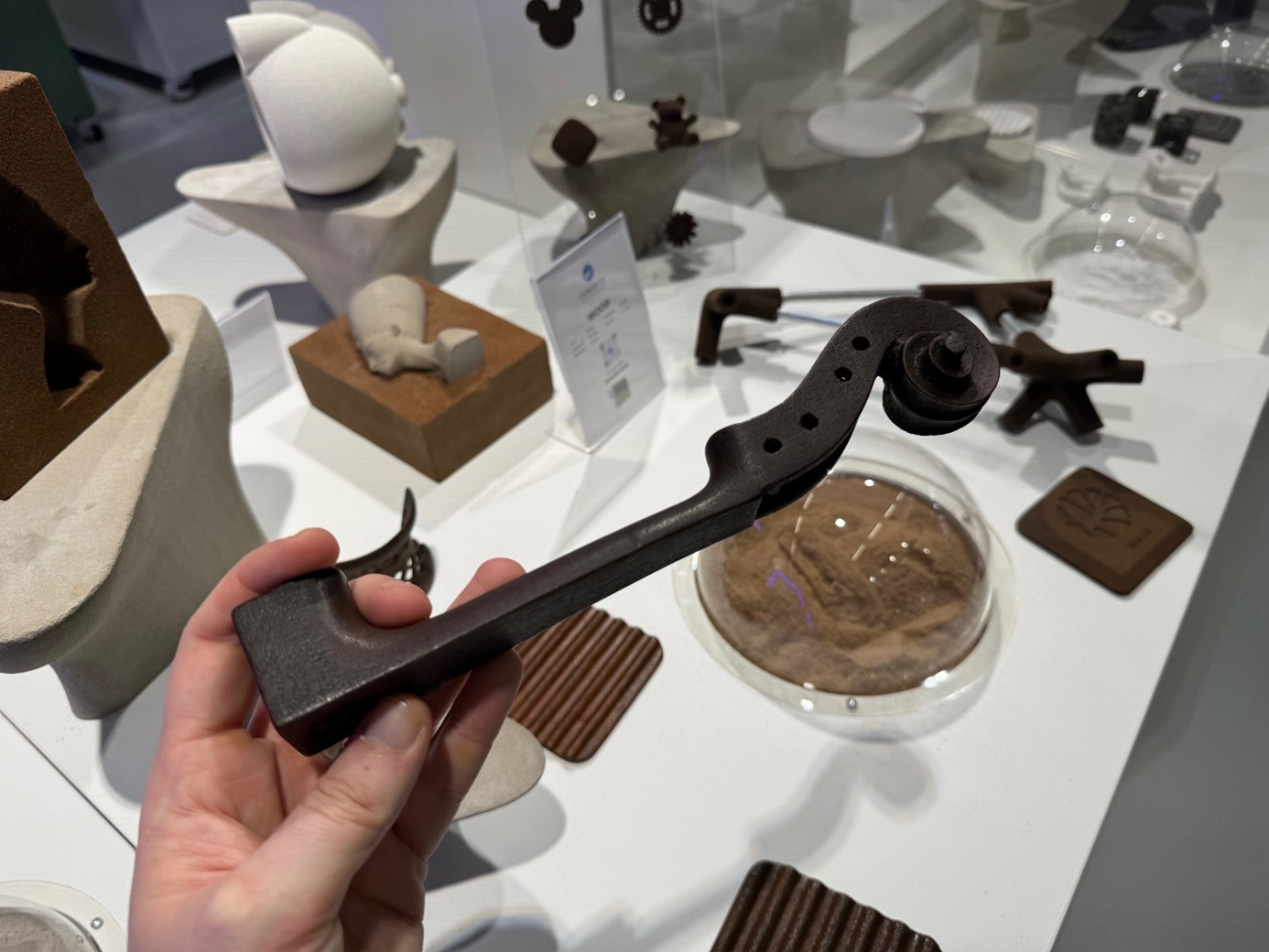 Reaction bonded Silicon Carbide (SiSiC) with Armadillo Blue
The 3D printing of SiSiC is known in the world in the sense that companies exist who developed this technology and sell 3D printed parts as a service. But never before was a solution available where companies could print this material themselves as a plug & play solution - until now. Together with our partner WZR, we developed a printer for SiSiC with predeveloped powder and an aqueous binder: the Armadillo Blue. The material combination is easy to use and very safe to handle. The SiC powder and aqueous binder come together to form a green SiC part with excellent green strength of over 6 MPa bending strength. This is essential for highly complex shapes. Then it is post processed in the conventional SiSiC process, where full density and zero porosity can be achieved.
If you already process SiC in your facility, the Armadillo Blue SiC printer is an easy to use and affordable addition to your factory that greatly expands your capabilities. Want to produce many parts or big parts? The Elephant 3D printer can be customized for SiSiC parts with the same properties as from the small machine.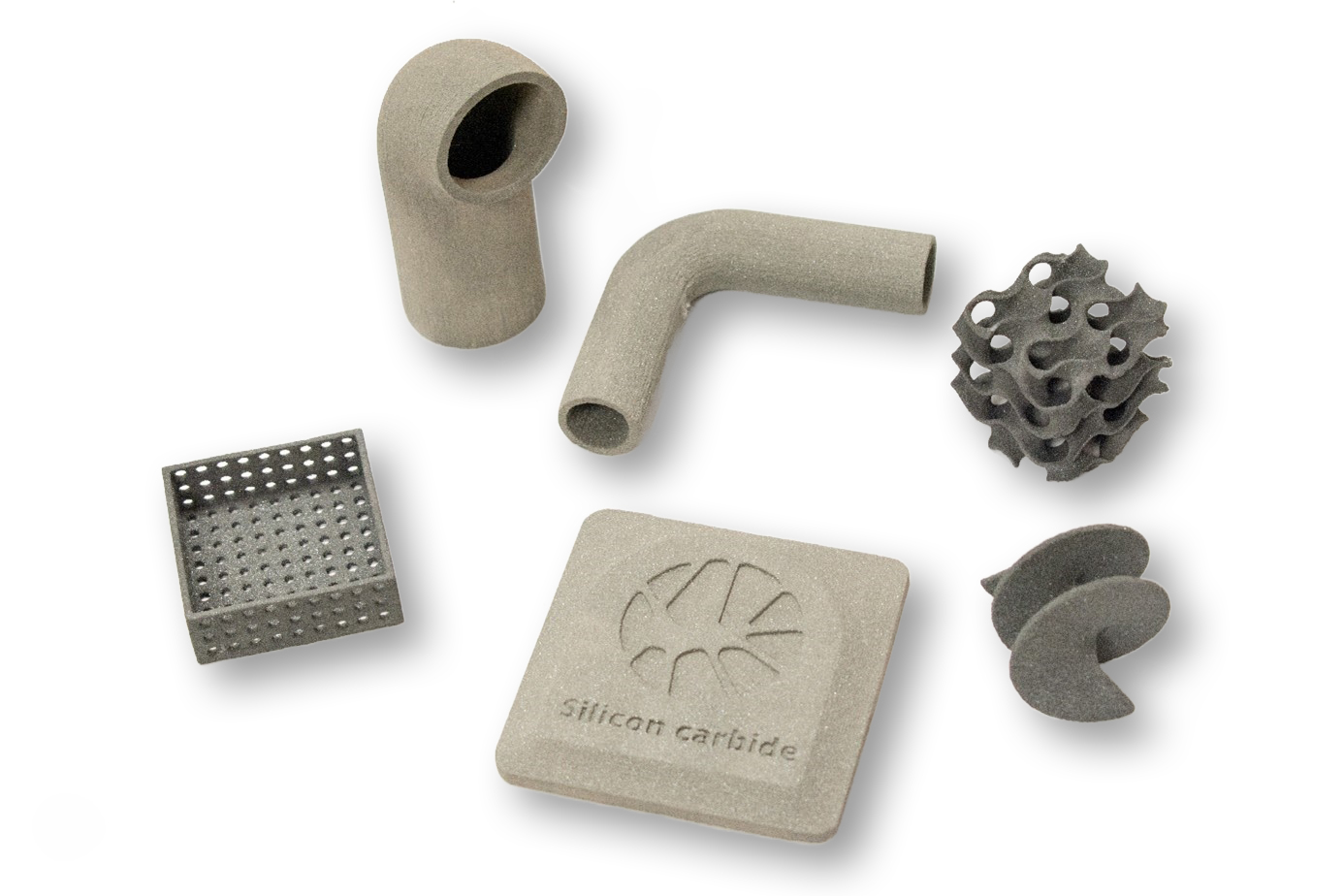 Foundry molds for sand casting with Phenolic and Inorganic binders
A perfect addition for your lab or foundry is the Armadillo Gray with either phenolic or inorganic binder for sand casting molds. On show were several cores and molds for metal casting using Quartz sand as a powder for a refractoriness of SK33. The binders used were an Inorganic sodium silicate binder called BF1003 and a Phenolic binder called BF1002. Alternatively they can be printed on a Cerabeads substrate for a refractoriness of SK37, or an Olivine or Chromite powder substrate. We especially love the sustainability of the BF1003 Inorganic Binder, as any gases in the casting process are minimized and the used sand can be fully recycled.
Looking to scale up production? Take a look at our Elephant 3D printer that is highly suitable for sand casting solutions, with a build volume of 100 x 200 x 100 centimeters!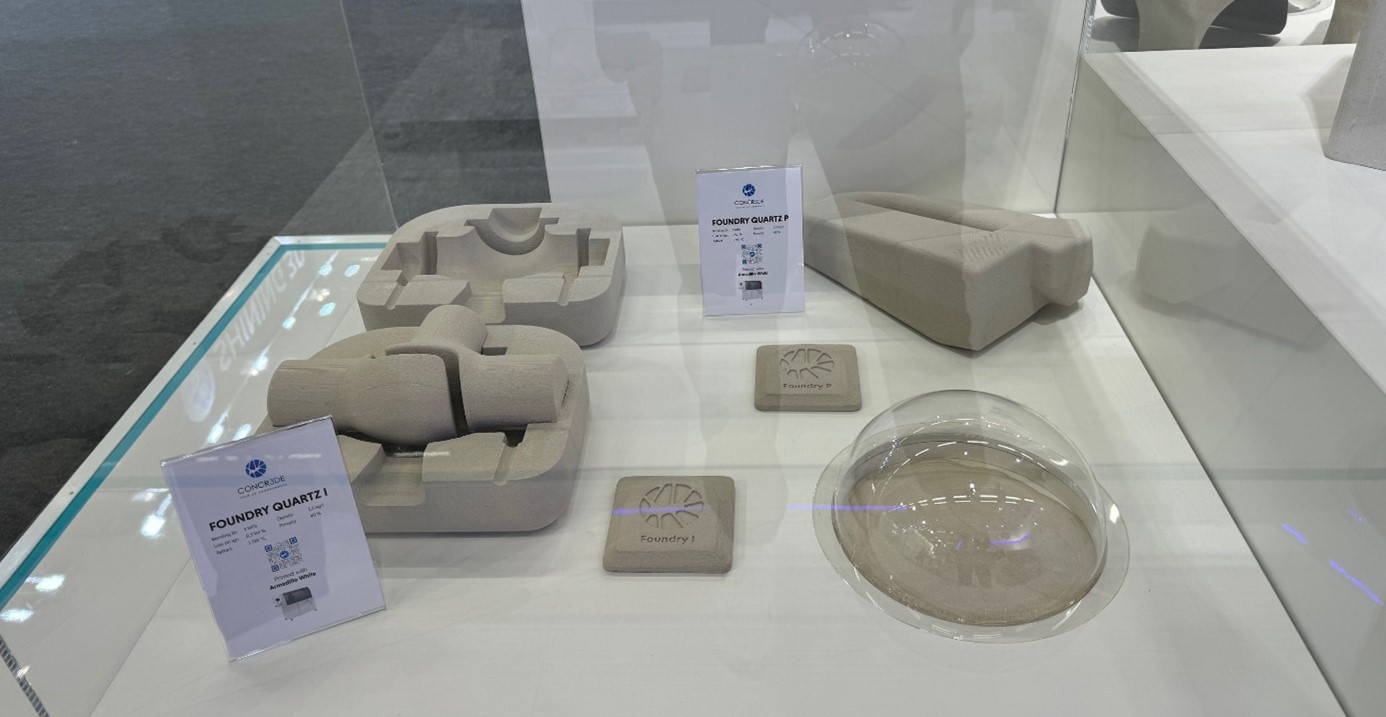 Refractory Cement
A new material that is unique to the CONCR3DE portfolio is a 3D printable calcium alumina with heat resistance up to 1.400 degrees Celsius. On show were some parts for our customer Die Mansers: a model for a stove previously made out of 40 pieces now printed in just 2 pieces, and a complex oven lining brick for high heat applications. Both parts were printed on the Armadillo Gray using BS1001 mineral binder and PS1001 refractory powder.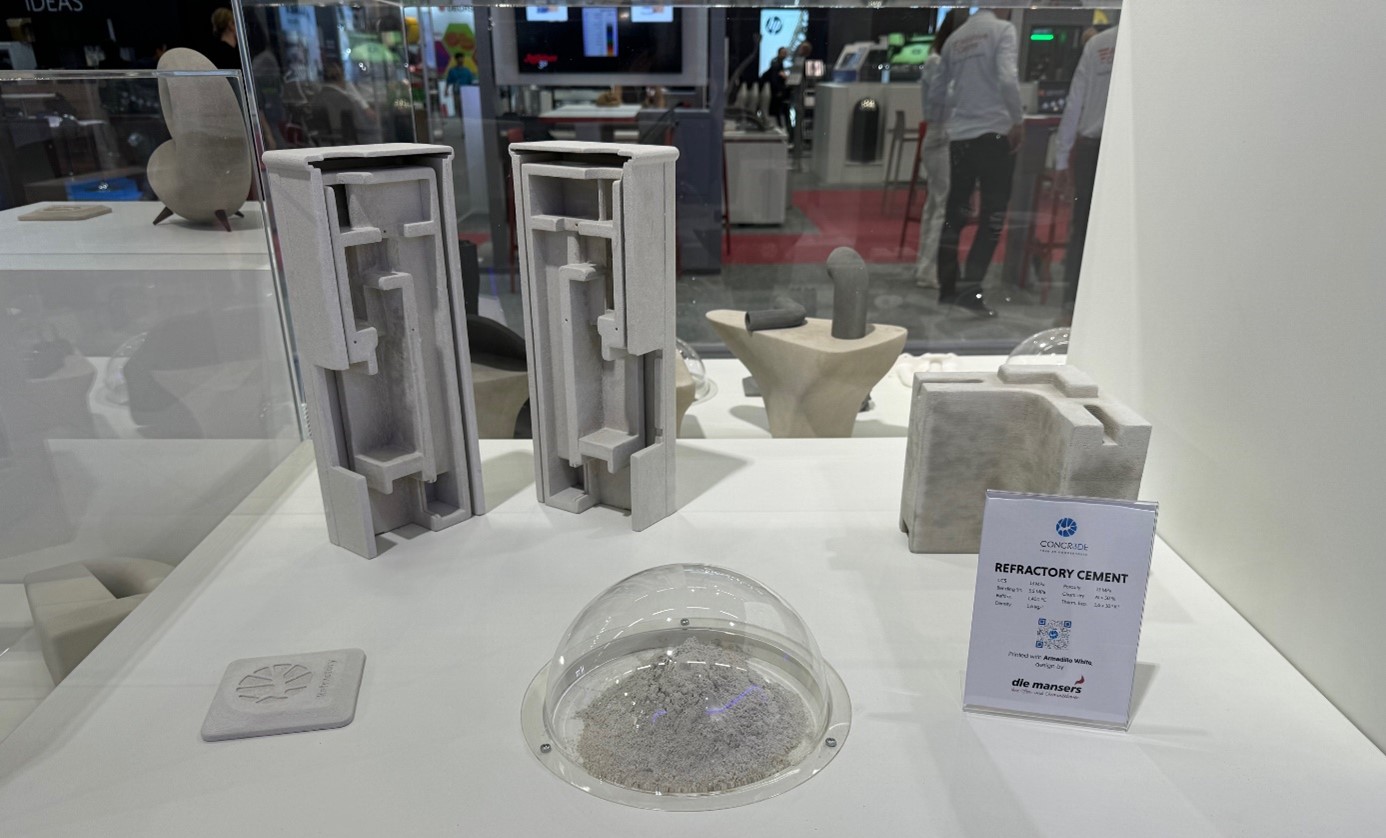 Recycled Stone
And lastly our favorite sustainable material, a recycled stone. An incredible example is this item by designer, researcher and architect Barry Wark who explores novel types of form with his students at the Bartlett and UPenn Weitzman Architecture. It was printed in a recycled limestone from a quarry in Puglia, Italy. The form language has implications for architectural surfaces and objects and can easily be scaled up using the Elephant Gray 3D printer. Another example of this limestone material is this speaker of which the shell is 3D printed using the Armadillo Gray. It gives a beautiful tactile surface and has fantastic use for product design, furniture, art, prototyping and model making.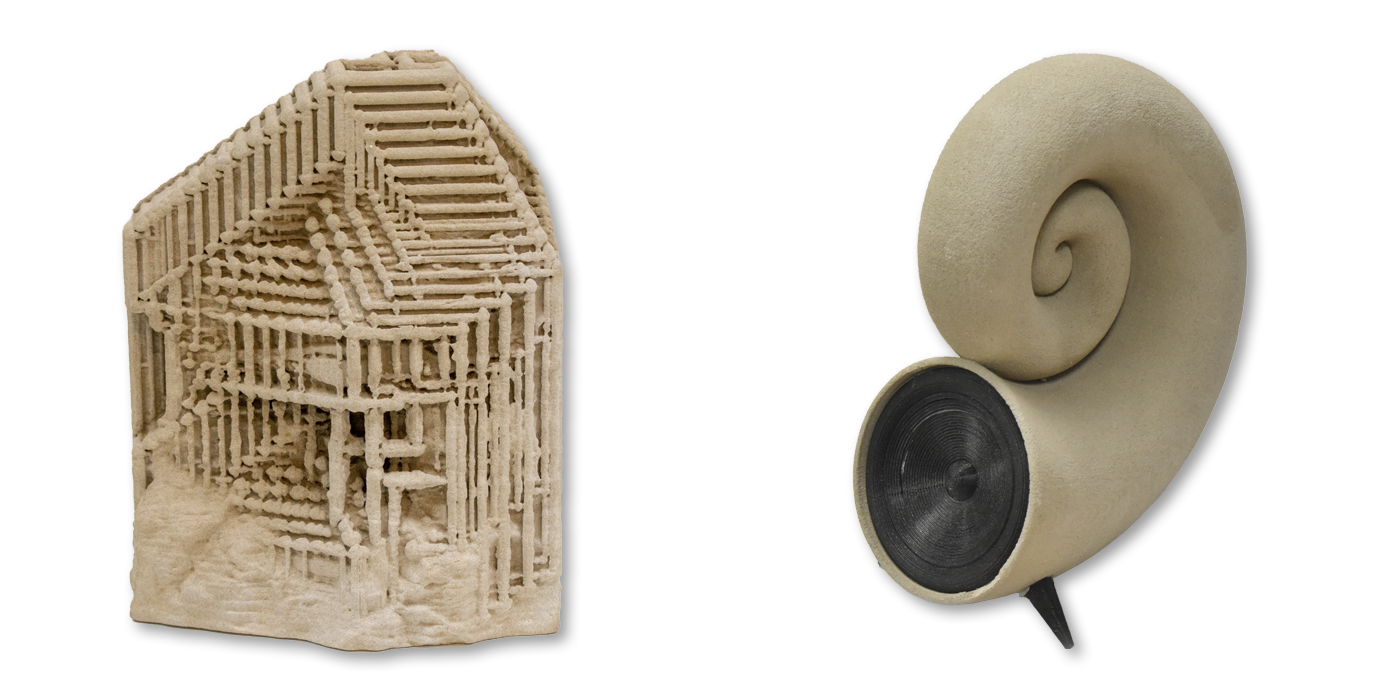 Lastly, we brought the Armadillo White to the fair.
At CONCR3DE we love to collaborate and be open with our customers. The Armadillo White is an open platform binder jetting machine where the user can use custom designed binder formulations, custom powders and even customize the hardware and software exactly to what is needed for his research. Our customers already use the machine to print materials like copper and tool steel, concrete, elephant grass, salt, polymers, bronze, stoneware, coral reefs and much more. Are you a researcher that is developing 3D printable materials? Do you want your students to develop new 3D printing solutions? Reach out to us via the Armadillo White page and we'd love to hear from you.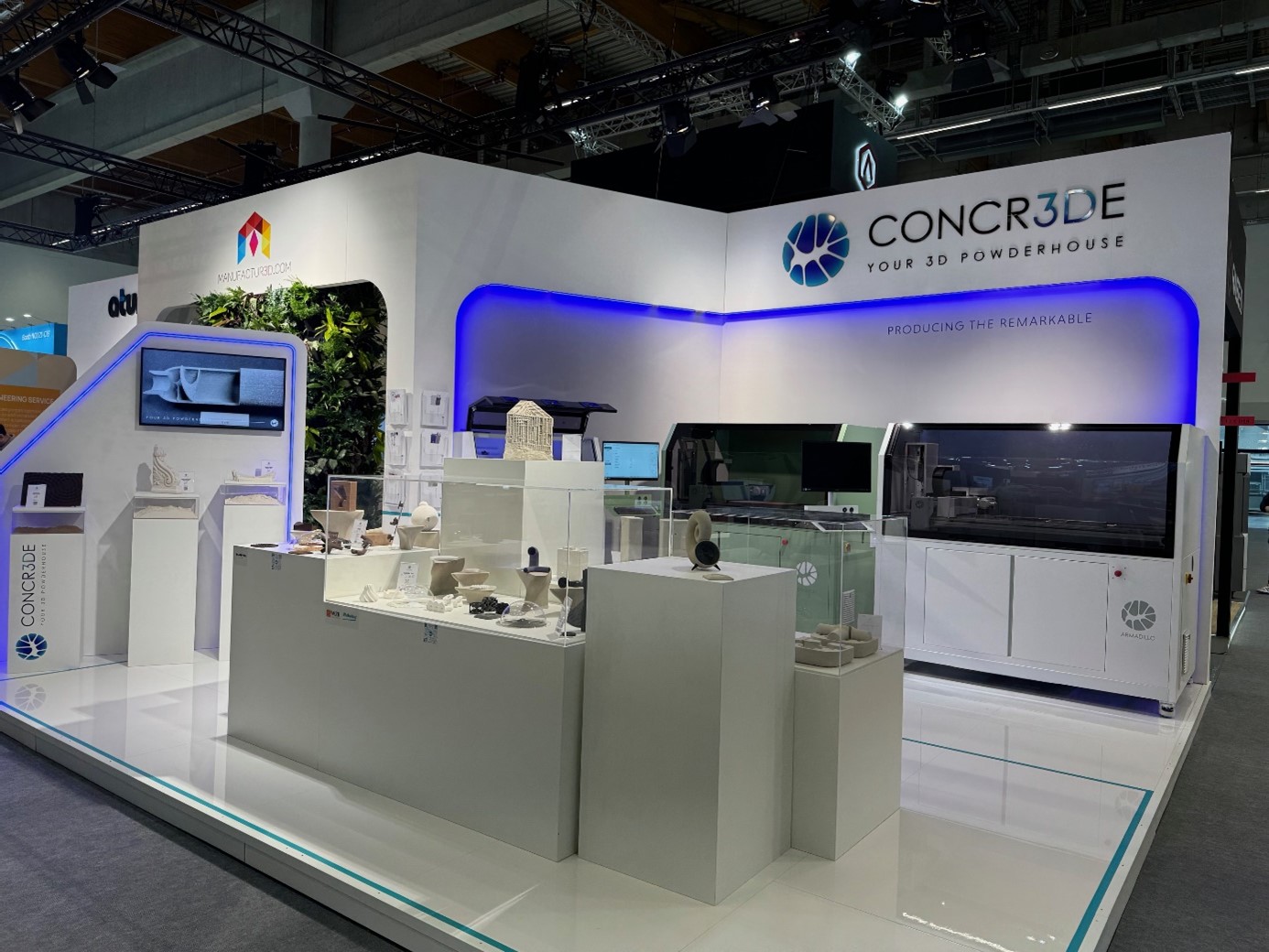 We want to thank all of you who made it to the fair for visiting our stand and for the excellent conversations that were had on additive manufacturing, sustainable materials and new applications!
Would you like to know more?
Contact
our team today!